Hunter Bevan has 20 years+ experience of Graphic Design, Web Design and Marketing which is the backbone that makes our business a success.  We feel it's important to share our knowledge with the next generation of budding creatives and give them a chance to develop skills for their future careers. 
For a number of years, HB have welcomed students from local schools and colleges to join us for their work experience and we've found it rewarding to offer them some insight into how a full-service design agency works.
So, when the lockdown hit and restrictions were in place, (the whole HB team scattered to work from home) it was disappointing to have to cancel our regular work experience programme. But we didn't let a pandemic stop us! After a little bit of brainstorming the HB team decided to put together a remote 'virtual work experience'.
In our normal work experience programme, we give students a project to work on in the background as well as learning software skills, working on real projects, and shadowing different members of staff. We took the project element and came up with two briefs for students to experience the real world of virtual home-working – just like our staff were doing at the time!
We came up with one design and one marketing brief for a fictitious motor dealer, based on a real-life project we had been involved with previously. We were interested to find out how they would be interpreted and what different ideas and strategies students would bring to the table. The plan was to receive work submissions and review them within the HB team to provide a certificate of participation plus a form with constructive feedback. 
It's safe to say that we were blown away by the response we received! We had no idea how widespread our virtual work experience programme would travel! We had aimed to have it as a resource for schools and colleges in our local area, but we soon heard from education providers from all over the country.  Several colleges signposted students to our work experience briefs in their newsletters and we heard from several tutors enquiring as to whether they could use the briefs for lesson planning.
One such college was Queen Mary's College, Basingstoke who were keen to use the Hunter Bevan briefs as part of their Virtual Work Experience Programme for BTEC Business Level 2 and 3 students.  The tutors were also hoping to tie in their course units with the brief requirements.   After discussion with the college tutors, we agreed to support the students learning and join them on a weeklong program of delivery. This culminated with a member of the HB team mentoring the level 2 & 3 students at the beginning of their project week, via video link.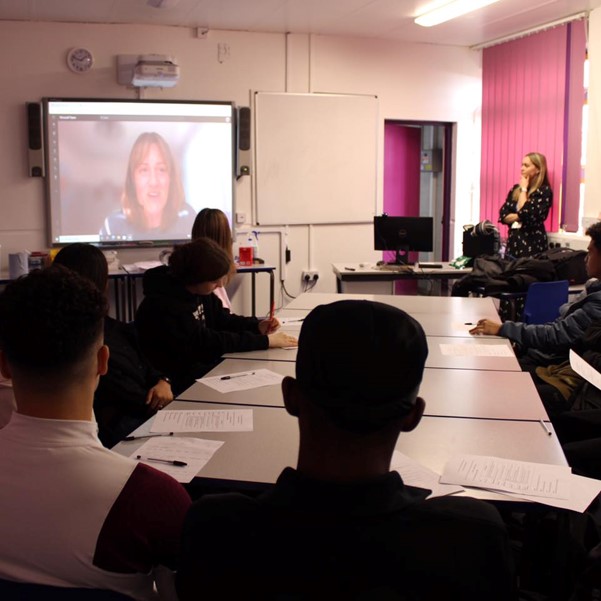 "I'd like to take this opportunity to thank you for providing such a great tool for us to utilise during this time, and I know it will be hugely appreciated by both the tutors and students to help them gain those employability skills needed for their university applications and personal CV's."  Mia Stewart, Queen Mary's College, Basingstoke.
We also received a steady stream of submissions from individuals all over the country who picked up on the work experience programme via our blog page.  It kind of went viral for while!  The standard of work we received was excellent and it was a pleasure to review all the great visuals and presentations. Here are some of our favourites… 
https://lottyrose.wixsite.com/my-site-12
Lotty absolutely blew us away with her submission. Not only did she complete the design brief with some excellent branding ideas, she also mocked up example stationery and other printed collateral. And if that wasn't enough, she created her own WIX brochure site to showcase her ideas. To present her concepts as a website was certainly the most innovative presentation received out of all the students who took part in the virtual work experience programme, and the work itself was very professionally executed.
Lotty had really taken the time to research and convey her thoughts effectively both in the visual presentation and the accompanying notes. It's also impressive that she had considered the time constraints of a working agency week in planning her work, and the experimentation with different styles and software platforms is evidence of both her creative and technical skills – as is the ability to have created the website to present the work.
This submission from Amy stood out to us because she had pretty much thought of everything when it comes to printed collateral!  A comprehensive and well executed presentation too which is like a pitch to a client –  Amy had really thought about how all the elements of the brand will work together.  The knowledge of how to use the software is also evident in the way it's all been put together with reversed versions of graphic elements, and the typography is good. I like the way the colour palette has been consistently used, right through to using black & white imagery of staff for the showroom etc. – a nice personal touch.
These logo ideas from Poppy stood out – we really liked the logos designs style and consistency. Clean, easy to read & understand from the get go. Consideration has been taken to keep the overall branding consistent, but use the colour to split out the different areas of the business. This is great to see because Poppy has created a suite of logos which will be recognised as the FFMG immediately.
An excellent submission from Sam, via Leeds City College, caught our eye. A very good presentation of his research, initial branding ideas and design process.  Even some mock ups of the branding on van livery!  Interesting and engaging use of powerpoint too.
With the end of the Covid restrictions, the HB team filtered back to the office and earlier this summer, 2022, we were able to return to our 'real life' work experience and welcome a year 11 student from a local secondary school.  Guess what background project we gave him to do?!!
Its back to business for HB and so for now, our Virtual Work Experience program is on hold, until such time as we can commit to offering students the time for feedback.  We were delighted to have been able to reach so many individuals with the briefs and hope that it proved a valuable exercise during a difficult time for learning.
The briefs are still up on our website and free to anyone looking for some 'real world' design/marketing practise:  https://hunterbevan.co.uk/missing-out-on-work-experience-this-year/